Mission Statement
The Utah GCSA is dedicated to improving the superintendents' position in the golf industry through education, networking, advocacy and to grow the game of golf.
Vision Statement
The Utah GCSA is a community of golf course management professionals and a go-to information source to enhance and grow the profession.
Utah Best Management Practices (BMP) Call For Items
The Utah BMP committee would like to include pictures of practices and success stories from Utah courses to help customize our document. Below is just a brief list of examples that are needed - however, we need it all! If you would like to help, please send your pictures, stories, strategies, etc. to Paige Boyle at: peboyle@aggiemail.usu.edu
Examples:
Erosion/sediment control
Stormwater retention
Rain garden/berms/pervious pavement
Wildlife/pollinator habitat
Buffer strips around ponds/lakes
Collecting soil/water samples
Alternative water supply source/use/signage
Monitoring soil moisture levels
Irrigation audits
Rain gauge/rain shut-off device use
Any cultural practices (topdressing, mowing, aeration, rolling, etc.)
Shade issues/management on turf
IPM practices (scouting, biocontrol, etc.)
Efficient washing stations (with rain gardens, wash pads with waste water collection/reuse, blowing cuttings before washing, etc.)
Efficient landscape plantings
2019 Educational Scholarship
T.A. Barker, CGCS GCSAA Director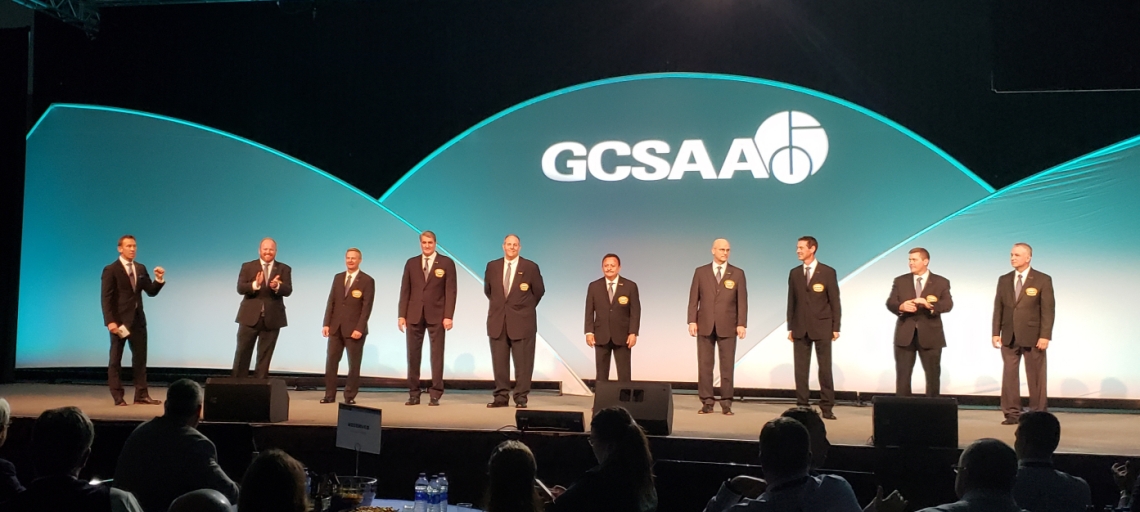 On Thursday, February 7th, at the Annual Meeting and Election in San Diego, California, T.A. Barker, CGCS was elected to serve again to a two year term on the GCSAA Board of Directors. Barker is the superintendent at Fore Lakes Golf Course in Taylorsville and has been the superintendent since 2006. He is a 14 year GCSAA member and past president of the Utah Chapter. Congratulations T.A.!
We have a new NAME!

On October 10 & 11 in Wendover, NV, the Intermountain Golf Course Superintendents Association held its annual education conference and trade show. One of the agenda items on the ballot at this years' conference was the name change from IGCSA (Intermountain) to the UGCSA (Utah). The initiative was brought forth for two main reasons. The first being the membership is almost completely comprised of individuals from Utah. The "Intermountain" region spans well outside of the borders of Utah. Secondly, the UGCSA would be more identifiable on a national level. Most people outside of the region are not familiar with the term "Intermountain" and the area it is entailing. The ballot initiative passed and is in the final stages of officially changing on a national level. Marching forward, the Utah Golf Course Superintendent Association should be more identifiable for the members of other associations, and we are proud to have the name of our great state attached to our professional organization.
2019 Utah GCSA Board of Directors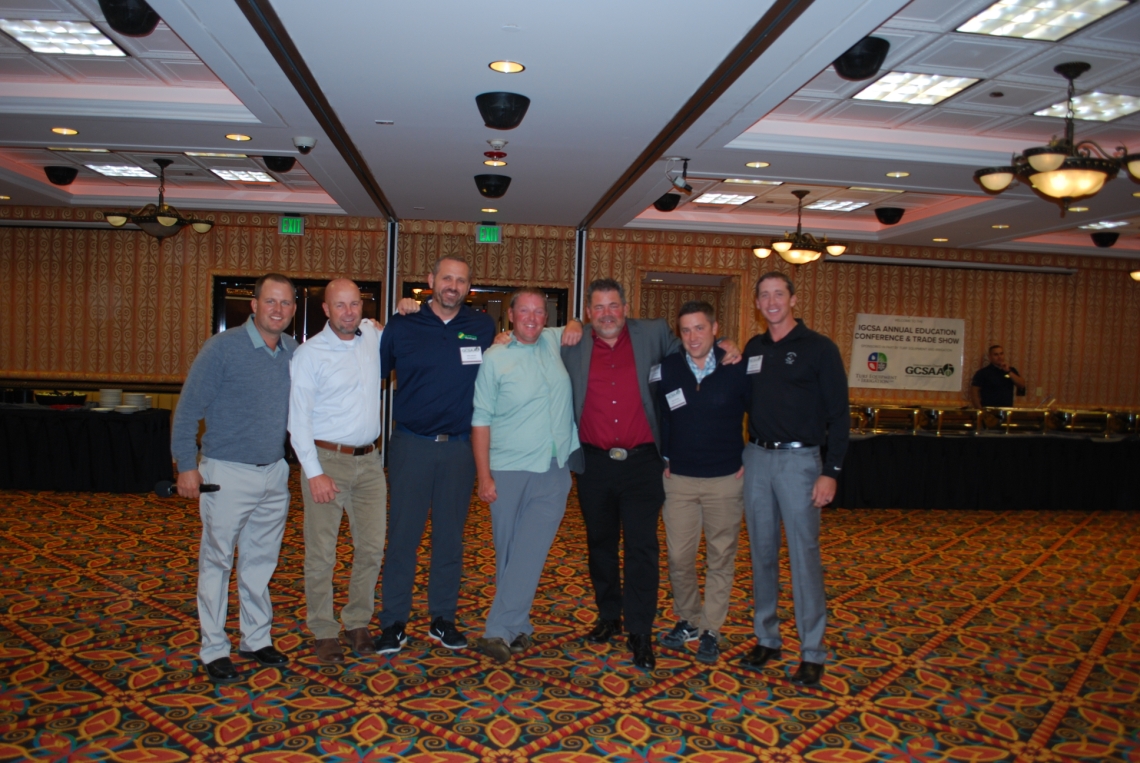 L-R: Ben Timmons, Jeremy Golf & Country Club (Past President), Troy Johnson, Green Source, LLC (Affiliate Rep), Phill Miller, Stotz Equipment (Affiliate Rep), Eric Jones, Talons Cove Golf Course (Director), Justin Woodland, The Barn Golf Club (President), Eric Gifford, Riverside Country Club (Vice President), Nathan James, Soldier Hollow Golf Course (Director).
Not Pictured: Alan Davis, Willow Creek Country Club (Secretary/Treasurer), Wes York, Oakridge Country Club (Director), Spencer Workman, Oakridge Country Club (Assistant Director)