Mission Statement
The IGCSA is dedicated to improving the superintendent's position in the golf industry through education, networking, advocacy and helping to ensure the future of golf.
Nominate Superintendent, Assistant & Sales Person of the Year
The IGCSA is proud to announce once again the call for nominations for IGCSA Superintendent of the Year, Assistant Superintendent of the Year and Sales Person of the Year Awards!
Winner will receive a plaque, full event package to the annual conference and a $100 Visa gift Card!
We ask that you take a few minutes a submit a deserving of the IGCSA for these awards. This is a great opportunity to nominate a colleague, your assistant, or sales person you think is doing a STELLAR JOB!
Nominees should not only be exceptional turf managers but also active in developing their staff and team members, active in the IGCSA and active in growing the game of golf.
Winner will be chosen by the current IGCSA Board of Directors based on the number of nominations and justification provided. They will be announced at the 2018 Annual Education Conference & Trade Show in Wendover, NV., on October 10th, 2018.
Award winners must be a current 2018 IGCSA member.
To nominate, please use the template linked below (or similar format) or go to https://www.surveymonkey.com/r/CDZXRZX (located in the uga.org homepage). Nominations on the UGA are for superintendent only. Nominations may be emailed or mailed and anyone is welcome to nominate.
Nominations must be received by 10:00 pm on August 31st, 2018.
http://cdn.cybergolf.com/images/1287/Award-Nomination-Template-(Sup,-Asst-Sup,-Sales-of-the-Year-(1).docx
2018 IGCSA Board of Directors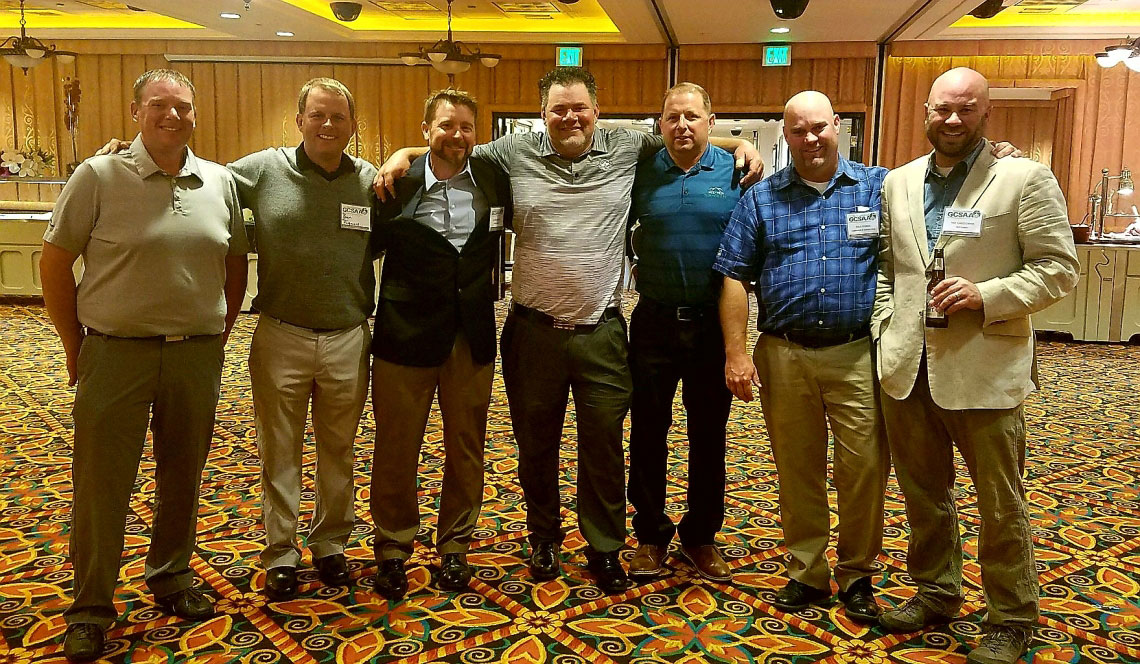 L-R: Eric Jones, Talons Cove Golf Course (Director), Ben Timmons, Jeremy Ranch & Country Club (President), Justin Jeffery, Victory Ranch (Vice President), Justin Woodland, The Barn Golf Club (Director), Brandon Haddick, Mile High Turfgrass (Affiliate Rep.), Paul Stokes, Logan Golf & Country Club (Secretary/Treasurer), Pat Christoffer, Red Ledges Golf Club (Past President).
Not Pictured: Alan Davis, Willow Creek Country Club (Director), Eric Gifford, Riverside Country Club (Director), Chris Connolly, Willow Creek Country Club (Assistant Director), Troy Johnson, Green Source, LLC. (Affiliate Rep.).